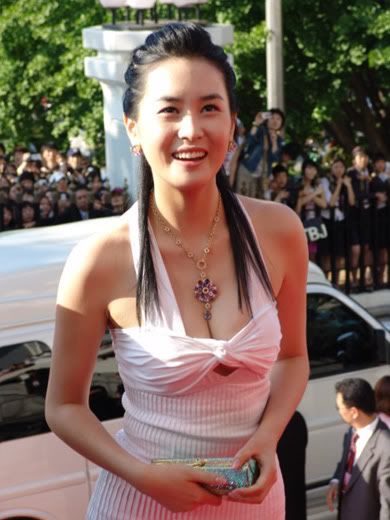 Actress Lee Da-hae (Hello Miss, My Girl, Green Rose) will host "2007 Mnet KMMusic Festival Award Ceremony" on November 17th. On the 16th of this month, she filmed MKMF's promotional clip, she sang rock song "I Love Rock & Roll".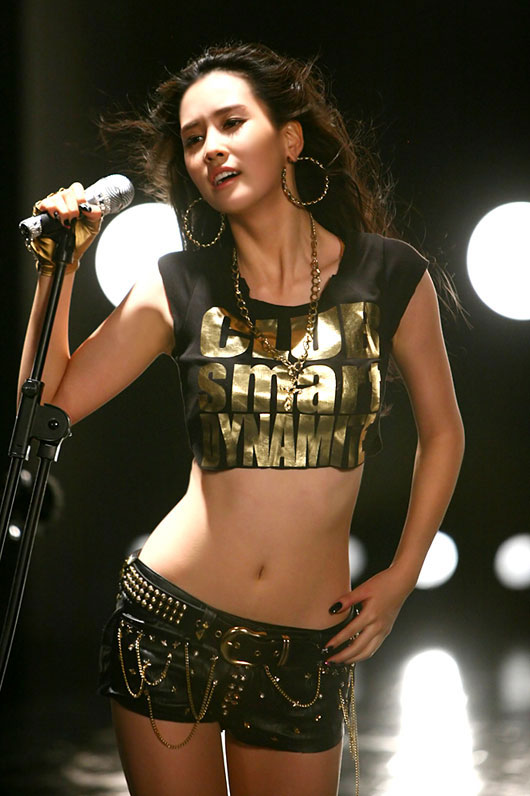 Biography
Lee Da Hae and her family moved to
Sydney, Australia
, for five years, and she graduated from
Burwood Girls High School
before debuting as an actress in Korea. She now lives with her mother in
Seoul
while her father and brother still reside in Sydney, Australia. Besides acting, Lee Da Hae's other passion is traditional Korean dance. She has performed many times in front of small audiences in Australia.
In 2008, following
Yoon Eun Hye
's signing event for Zipel refrigerator, Samsung continues to hold another signing event for those who buy Kimchi Hauzen freezer. She was also later cast in the 2008 hit action drama
East of Eden
along side
Yun Jung Hoon
and
Song Seung Hun
. Not much later Lee went to the emergency room. She had collapsed because her busy schedule along with her excessive workouts at the gym resulted in severe fatigue.
[1]
[2]
But Lee Da Hye had shockingly announced her departure from the drama due to health reasons and decided to leave in Episode 40,
[3]
which was aired January 14. Lee's character, Min Hye Rin, will embark for overseas studies in America, effectively marking the exit of Lee Da Hye in a natural manner and was eventually replaced by
Hwang Jung Eum
.
[4]
In 2009, Lee Da Hae accomplished a number of things. She went on vacation with her mother in January, moved to J. Tune Entertainment
[5]
where she worked under the same roof with
Rain
and modelled for Swarovski Spring/Summer Collection. She also filmed the scandalous love-themed music video "Dance For Two" with Taiwanese singer, rapper, actor,
Wilber Pan
.
[6]
Lee Da Hae is set to make her film debut in a 3D Korean movie titled 'Song of Spring', she will star alongside Lee Sung Jae and Ahn Sung Ki. She plays the role of the female lead named Ara, a dancer.
Discography
2008: Can, Can, Can! (Song for Hauzen, Samsung, Kimchi Refrigerator)
2007: I Love Rock'n Roll (Korean version)
2006: If You are Willing To (Digital single from the drama My Girl that she sang in Episode 4)
Filmography
TV Commercials / Advertisements
Greencard CF
J Polack clothing
Hauzen CF
Hummings CF
Amore Pacific - V=B Program CF
Venus CF
Dentrala CF
BC TOP Card CF
Hoban CF
Hercyna CF
Samsung Kimchi Refrigerator CF
Beyond FAIL CF
BBK life electric - Soymilk (Chinese CF)


Music videos
Rock'n Roll Festival
Lee Da Hae expands her horizons through singing her first music single and with a new look. More specifically, in a rocker chick style.
[7]
The music video was actually a promotional clip for the MKMF performance which was held on November 7, 2007. Lee sang a remix version of the hip rock song
I Love Rock'n Roll
Cover Versions
for the promotion of the 2007 Mnet Korean Music Festival (MKMF) where she co-hosted with comedian
Shin Dong Yup
. Lee's drumming skills in the performance made for quite an excitement as she is known more for adorable, girlish charms. The proceeds of the digital single will go entirely to funds like the Donors Camp and to benefit underprivileged children.
[8]
Awards
2009 Asia Model Festival Awards: Popular Female Star Award
2007 KBS 2007 Performance Awards: Excellence Award - Mini Series ( for Hello! Miss )
2006 SBS Performance Awards: Top 10 Popularity Award
2005 SBS Performance Awards: Performance Award - Drama Special (for Green Rose and My Girl)
2005 41st Baeksang Arts Awards: Best New Actress (Lotus Flower Fairy)
2004 MBC Acting Awards: New Actress Award (Lotus Flower Fairy)